Wellness Care
We offer puppy and kitten vaccines, yearly vaccines, along with intestinal worm testing and heartworm test.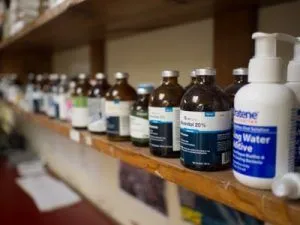 Critical Care
Our clinic has a full service pet hospital with an in house lab for diagnostic blood work.
Surgical Care
Our doctors do routine spays and neuters, advanced soft tissue surgeries and some orthopedic surgeries.
Digital X-Ray
We have an in house digital x-ray so we can get your pet's diagnosis and treatment plan started as soon as possible.
Dental Care
Our hospital is equipped to do routine dentals as well as severe dentals with extractions.
In House Pharmacy
When your pet is prescribed medications we fill them on site in our fully stocked pharmacy so you or your pet do not have to wait to get treatment started.
Flea and Heartworm Programs
Our wide verity of flea and heartworm medication insures you can find the perfect protection for your home and pet.
Emergency Care
If you have an emergency after hours and need assistance please call 251-679-0370 for instructions for our after hours clinic.