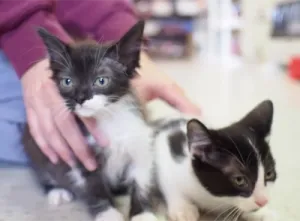 New Kitten Vaccines
1st Set- 6-9 weeks old- Feline Viral Rhinotracheitis, Calicivirus, and Panleukopenia
2nd Set- 10-12 weeks old- Feline Viral Rhinotracheitis, Calicivirus, and Panleukopenia, Feline Leukemia Virus
3rd Set- 13-16 weeks old- Feline Viral Rhinotracheitis, Calicivirus, and Panleukopenia, Feline Leukemia Virus, and Rabies Vaccine
Cat Yearly Vaccines
Over 6 months of age- Feline Viral Rhinotracheitis, Calicivirus, and Panleukopenia, Feline Leukemia Virus, and Rabies Vaccine
New Puppy Vaccines
1st Set- 6-8 weeks old- Distemper, Parvovirus, Adenovirus, Parainfluenza, and Coronavirus vaccines
2nd Set- 9-11 weeks old- Distemper, Parvovirus, Adenovirus, Parainfluenza, Coronavirus, and Bordetella vaccines
3rd Set- 12-14 weeks old- Distemper, Parvovirus, Adenovirus, Parainfluenza, Coronavirus, and Leptospirosis vaccines
4th Set- 15-18 weeks old- Distemper, Parvovirus, Adenovirus, Parainfluenza, Coronavirus, Leptospirosis, and Rabies vaccines
Dog Yearly Vaccines Distemper, Parvovirus, Adenovirus, Parainfluenza, Coronavirus, Leptospirosis, and Rabies vaccines

Visit www.aspca.org for more information on animal vaccinations.
Heartworm Test
Heartworm disease is alive and well in the southern states due to our pesky little friends called mosquitos. If your animal is on a heartworm prevention we suggest they get tested at least once a year just to make sure the medication is doing what it needs to do.

If your animal is over 6 months of age and has never been on heartworm prevention we suggest that you have them tested before placing them on a preventative, or if your pet has been off prevention for an extended amount of time we suggest you have them tested before resuming the medication.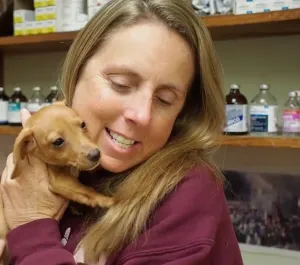 Fecal Float (Intestinal Worm Check)
We suggest all new animals in the house be checked for intestinal worms to ensure that nothing new is brought into the environment. Older animals should be tested once a year to make sure they have not picked anything up while they are outside of their environment. You can find more information here about parasites.
Spaying and Neutering Your Pet
Any time a pet is put under sedation for surgery there is always a risk that they could have complications from the sedation. We offer pre-anesthetic blood testing to all our surgical patients to try and help identify a problem before they are put under sedation. Here at the Saraland Veterinary Clinic we suggest your pet be spayed or neutered at 6 months of age and older, this helps reduce the risk of testicular cancer in males and mammary tumors in females. If your female is pregnant or in heat they can still be spayed, but there is an additional fee due to the increased length of the procedure.